Teachers and Group Organisers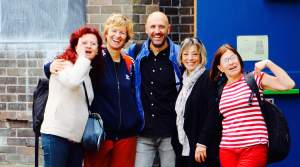 If you are planning a project for your school, college or university group, please contact us today. We will work closely with you to plan the perfect project for you and your students.
Our Projects Team will help to produce the project best suited to your needs. We will work tirelessly to ensure that everything is well-organised, from coach transfers to homestay hosts, lessons and afternoon activities.
During the planning stages of your project, we are able to send one of our native-speaker teachers to your school to meet classes in person and to speak at a parents evening. This will encourage a better understanding of our school and the project and more enthusiasm and support from students and their parents.
Immerse your students in English
Whilst studying with us in Exeter, your students will benefit from an intensive study period – wherever they turn they are surrounded by English. The aim of an IPC Project Week is to give students a chance to experience English culture at first hand and to experience using their English in real life situations.
Enjoy a stress-free experience
As an Organiser, you will benefit from our attention to detail and our aim to make everything as stress-free as possible for organising teachers. Our key staff are available to you at all times to assist with any questions or issues. When you bring students to IPC, as well as making sure they have a great time, we work hard to make sure your Exeter experience is an enjoyable and relaxing one.
Communicate directly with us
We want to work directly with schools and teachers because we have more than 25 years' experience and believe that our projects run most smoothly when our communication is direct. At the same time we want to minimise disruption to your working time and to keep your work to a minimum.
Contact Us
If you are a Group Organiser, please contact us to let us know the following information: